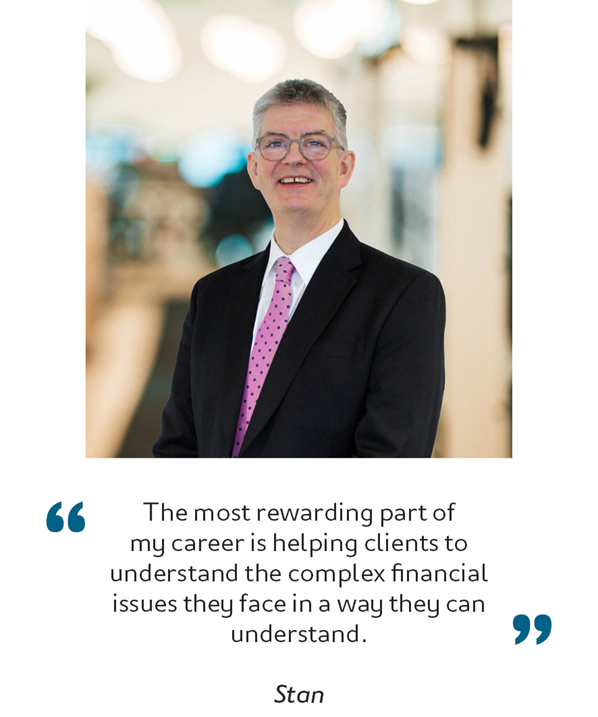 Stan Coupe Dip PFS
Senior Financial Consultant
Career 
I've been working in the financial services industry now for over 35 years, 20 of which have been within the personal injury and clinical negligence sector. Prior to joining Adroit in January 2017, I was working for a National IFA firm advising solicitors and their clients. 
Expertise 
Throughout my career I've advised both claimant and defendant litigators in the personal injury and clinical negligence sector on a range of both pre settlement matters, such as periodical payments, pension loss claims and the implications of settlement upon state and welfare benefits. I also advise on post settlement matters, such as investment advice and trusts. 
The extensive experience I have in this area means I often work with the most vulnerable clients. I understand the importance of the time and consideration spent on each client's individual needs and I endeavour to prove advice in a clear and straightforward manner to ensure that they have a full understanding of all   options and potential solutions. 
As well as working with solicitors to ensure their clients get the best possible service available, I've frequently provided training to solicitors, helping to develop both pre and post settlement advice also advice on the establishment and growth of Deputyship work. 
Career highlight 
The most rewarding part of my career is helping clients to understand the complex financial issues they face in a way they can understand.  
Professional memberships
My professional memberships are:  
The Chartered Insurance Institute (CII)

 

The Personal Finance Society (PFS)

 

APIL

 
Contact Stan
For more information about Stan and how he can assist you, please email stan@adroitfp.co.uk