Pensions and Retirement Planning
Adroit Financial Planning are experts in respect of pensions and retirement planning. We can ensure that your financial future is secure, not only by providing all the necessary advice, but also by providing all the necessary assistance and guidance. Please contact our experts for any pensions and retirement planning advice.
Why are pensions important?
What can a pension provide?
How does a pension plan work?
How do you know how much you will need to invest into a pension plan?
How do you draw a pension?
How can Adroit Financial Planning help?
Why are pensions important?
It's easy to put off saving for your retirement, but with people now living, on average, well into their 80s, pension planning is becoming increasingly important.
In the past, pensions could often be quite complex which would sometimes deter people from taking out a pension and stop them taking action in planning their retirement. However, there have now been a number of changes in the regulations which has made the pensions process much simpler and easy to understand.
What can a pension provide?
A pension in its simplest form is an investment plan which will provide you with an income once you retire. Unlike other investment plans, a pension gives you tax relief on contributions and the investment itself grows virtually free from tax.
In return for these up-front tax concessions, you will pay tax on the pension that you take when you eventually retire. For many people however, their rate of tax in retirement will be lower than during their working lives, making a pension an extremely tax-efficient form of saving.
How does a pension plan work?
If you take out a pension plan, it will basically work as follows:
You, and in certain circumstances, also your employer, will make contributions into a pension fund
Contributions into the fund can be made as a lump sum, on a regular basis, or both
Over the years, the fund, will potentially grow
You can draw your pension from the age of 55
Your pension can be drawn in a way which suits your requirements
There are certain circumstances, in which your dependents may also benefit from your pension plan

How do you know how much you will need to invest into a pension plan?
Everyone's circumstances are different so it's difficult to estimate the amount of income you will need during your retirement. However, if we were to look at your salary, as a basic estimate, we would suggest: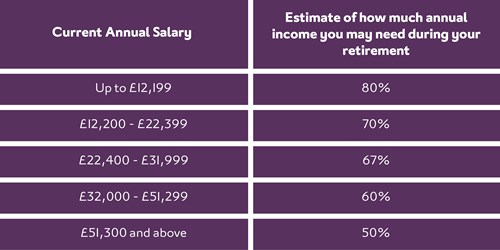 How you achieve this will depend on how much you invest. This will obviously depend on your current age, your preferred retirement age, employer contributions and pension contributions which have been paid to date.
How do you draw a pension?
Flexibility on how you draw your pension when you retire has improved. In some cases, it may be beneficial from a tax point of view for you to not draw your pension immediately, as it's now possible for your beneficiaries to 'inherit' your pension in a very tax efficient manner. There are certain options which should be considered when deciding how to draw your pension.
Tax Free Cash
Most pensions allow you to take an element of tax-free cash, usually 25% of your pension fund. If your pension is an occupational scheme that has been in place for many years, the amount you can take may be different.
Annuities
Traditionally, the most common way to draw your pension is by way of an annuity which will provide you with a guaranteed pension for the rest of your life. You can add other benefits, such as a pension for your spouse after your death or the facility to have your payments increase each year. However, the more 'options' you add, the lower your initial annuity payment will be. If you suffer from any medical conditions you may qualify for an enhanced annuity, boosting the amount you will receive.
Flexible Drawdown
This is an alternative to buying an annuity. Effectively, you will continue with your pension as an investment, but draw an income from the fund. The amount you can draw is unlimited, but you have to consider both the tax consequences and planning to ensure that your funds last as long as you need them. The benefit is that you have control over your investments, while still retaining the right to convert to an annuity at any time. You are also able to leave any unused funds to your beneficiaries. This option is not without its risks and should be fully discussed with one of our expert advisers.
How can Adroit Financial Planning help?
We'll work with you to help you understand what may be needed to fund a pension which provides the income you would like in retirement.
We'll then not only set up the pension plan, but will also recommend an appropriate investment strategy and review it with you on a regular basis. This point is extremely important as in the past many pensions have been set up and then forgotten, resulting in them holding inappropriate investments as you approach retirement.
If you already hold one or more existing pensions, we'll be more than happy to review these for you and suggest an appropriate course of action. If you have multiple pensions we will look at whether or not it's cost effective for you to have these consolidated into one plan, and help give you a clearer picture of your overall planning.
When you eventually decide to draw your pension, we can provide advice on the many options available. We'll ensure we explain in the simplest of terms, the tax benefits and risks involved, to ensure that any decision you make is the best possible decision for you and, most importantly, the one which ensures your financial future is protected.
Contact the Adroit Financial Experts
Should you require advice from one of our experts, please contact a member of our team on 0330 995 6838 or using the form below:
Contact Us
If you'd like more information about the services we can offer you or your clients, please contact us on 0330 995 6838 or email us at enquiries@adroitfp.co.uk